It's great to see Sesame Street help young children deal with the war. Frequent deployments of parents is a major issue and to see Sesame Street tackle such an issue through its major characters is a definitely a big feat that I can't imagine Barney or Dora doing. Then again who knew Elmo had a mom or dad. I think that it adds an interesting dynamic to already famous and well beloved character.
Sometimes I wonder if it is appropriate to a certain extent. I like the idea of it and how it serves as a sort of therapy/support group for children who may be facing the same situation. In addition, it gives a window for children who are out of the loop (those who parents or guardians are not in the military) to see the lives of children dealing with this situation.
Not to get political because I think the debate should be focused on the best way of presenting the issues to children but what if children start to ask questions. What if Elmo begins asking Condoleeza, Laura or Hillary some tough questions? I wonder what kind of special they can concoct. I choose the women because they are more likely to be featured in photos with Sesame Street characters.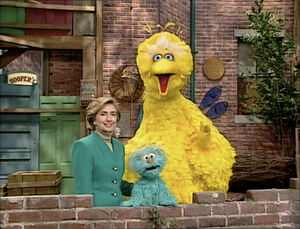 I like this move for Sesame Street in general and I hope it works.
Watch:
What do you think about presenting this material to children? Is it worth all the questions and trauma and the sadness associated with this? Or is it something necessary for whatever reason (to be true to yourself or to allow your kids to think about serious issues)?